High Security Laser Check
Why select a High Security Laser Check color?
Harland Clarke's High Security Laser Check colors are combined with 30 security features to assist in reducing check fraud associated with check washing, check forgery or check copying. The check is designed with state-of-the-art features to provide business account holders with additional peace of mind.
Security features on Harland Clarke's High Security Laser Checks: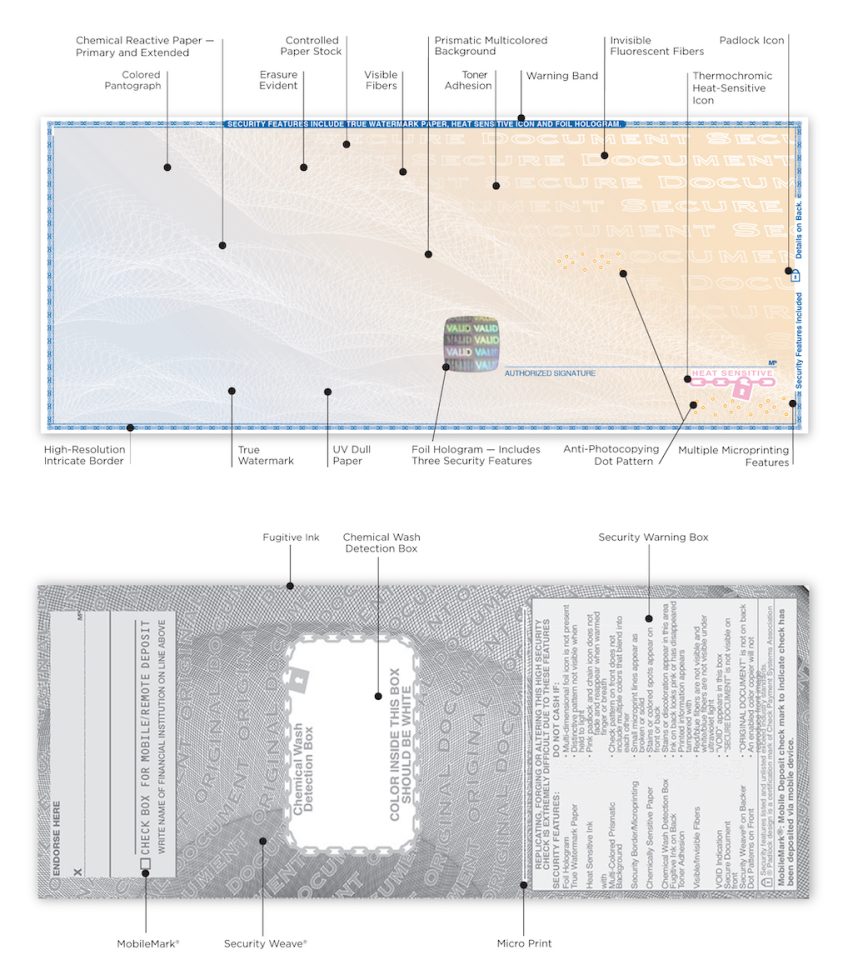 The High Security Laser Check is available in most laser check styles. Choose from three colors: Hologram Blue, Hologram Green or Hologram Maroon.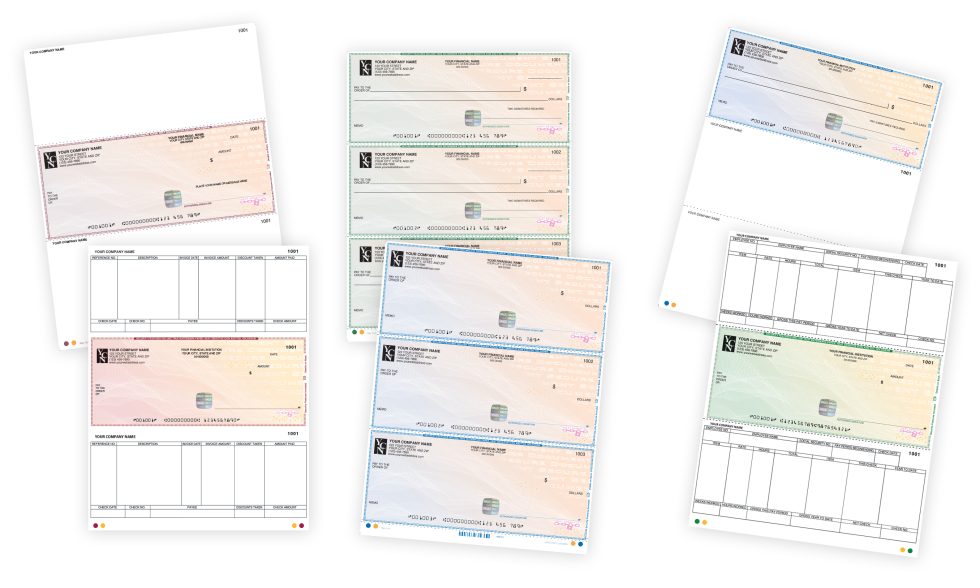 The check styles above represent some of our popular laser checks. The High Security Laser Check is available for most software. Contact Harland Clarke for options.
Security Features Definitions
Anti-Photocopying Dot Pattern: A pattern of dots that helps imaging software within enabled colored copiers from reproducing the check face image.
Chemical Reactive Paper — Primary and Extended: A uniquely treated paper will show visible signs of chemical tampering.
Chemical Wash Detection Box: This white area on the check backer makes chemical tampering instantly evident.
Colored Pantograph: If the unique colored background is not present, the document is not authentic.
Controlled Paper Stock: Controlled stock ensures the security of your product, as well as the paper supply itself, during every stage of production.
Erasure Protection: When attempting to erase printed information, the background color will disappear leaving a white mark that makes tampering evident.
Foil Hologram: A three dimensional graphic foil embedded in the check provides additional protection against duplication of the document.
Fugitive Ink: This chemical-sensitive ink used to print the check backer forms a detectable spot when chemical alteration is attempted.
High-Resolution Intricate Border: Uniquely designed border is difficult to replicate and often distorts when copied.
Invisible Fluorescent Fibers: Invisible fibers can easily verify a document's authenticity when viewed from either side of the paper using black (UV) light.
Microprinting: The signature line, border and backer provide authentication when viewed under magnification.
Mobile Mark: A checkbox under the endorse area on the backer that allows account holders to keep track of checks deposited via mobile deposit capture. This helps avoid unintended duplicate deposits of the same check.
Padlock Icon: The Padlock Icon ensures that your document meets or exceeds industry guidelines.
Prismatic Multicolored Background: A multicolored background with subtle graduations makes  copying and reproducing difficult.
Secure Document: The Secure Document check face makes replication difficult.
Security Screen Backer: The words "Original Document" will fade, distort or disappear if the check has been copied or scanned by traditional means.
Security Weave: This intricate, patented design on the back of the check deters counterfeiting, copying or scanning.
Thermochromic Heat-sensitive Icon: Thermochromic ink cannot be applied by conventional photocopiers, thereby ensuring the authenticity of the document.
Toner Adhesion: Toner adhesion provides an added level of security to ensure that toner from your printer cannot be removed from the paper without damaging the paper.
True Watermark: A distinctive mark that is visible in reflected and transmitted light, but will not scan or copy.
UV Dull Paper: This paper provides a method of comparing traditional copy paper against your original documents.
Visible Fibers: Random fibers of various lengths and colors are visible on both sides of the paper to complicate copying.
Void Indication: Special screens and background designs are hidden in the paper. When photocopied, the word "Void" will appear.
Warning Band: The band on the face of the check calls out specific features, helping the recipient quickly verify authenticity.
Warning Box: The warning box on the back of the check calls out an extensive list of security features, advising the recipient to validate these features before cashing.
* Some features listed above may include multiple features within them.